Sportsnet Pick 'N Play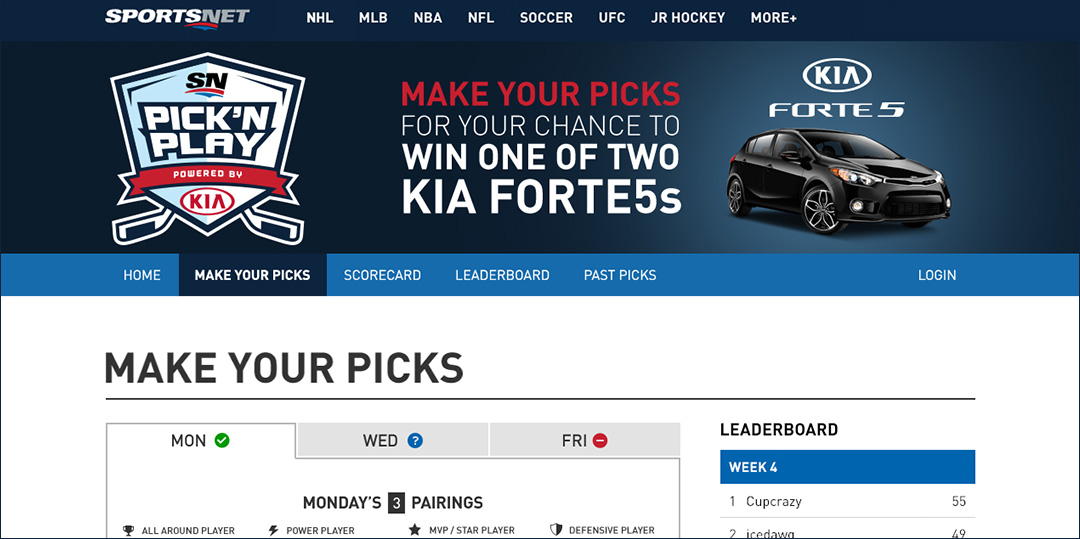 Imagine Monday Night Football, Match of the Day and the lottery rolled into one and thrown on ice.  In Canada, that is how big Hockey Night in Canada is.  Rogers Media, one of Canada's largest media companies, took over this venerable TV brand and wanted to build a fantasy hockey experience that is accessible and available to hockey newbies and fanatics alike.
We innovated and produced a simple, logical low-investment fantasy sports game that let hockey viewers from coast to coast play simply and easily.  All they have to do is pick a single player from each of nine NHL pairings each week for a chance to win one of two brand new Kia cars.  With a single sign in and simple tie breaker – Hockey Night in Canada Pick 'n Play is easy, efficient, and exciting.
Pick 'n Play is off to a great start – and is poised to be the break out hit of the 2014-2015 Hockey Night in Canada season!